Modern design floors add a certain flair to any room. When it comes to seamless terrazzo floors, floor coatings made of epoxy resin as well as polyurethane resin, BARiT is the place for you. Our design floors are suitable for the highest demands in terms of quality and durability. Our resins are very low in emissions. There are no harmful vapors or odors. Our floors have been awarded the "TÜV PROFiCERT-product Interior PREMIUM" label. This combines the emission requirements of various environmental labels and legal requirements. It supports construction's health and environmental aspects for better indoor air quality.
With our design floors, planners have absolute freedom of design: whether classic, loft-like, Bauhaus-style, restrainedly homogeneous or strikingly color-intensive: design floors from BARiT offer ideal conditions for accentuated interior design with a special structure. In 2002, our BARiT MUSEUMS-TERRAZZO design floor was even awarded the Innovation Prize for Architecture and Flooring for its innovative character. Above all, its low installation height and high load-bearing capacity were decisive technical criteria for the expert jury.
go to our product overview
Creative options with the design floor
Our BARiT design floors based on epoxy and polyurethane resins blend harmoniously into sensitive colour concepts thanks to their homogeneity and open up numerous design possibilities. The entire spectrum of RAL or NCS shades can be implemented. Talk to our technical consultants and decide on the perfect shade.
Generally, seamless synthetic resin floors such as sealers, coatings or seamless synthetic resin floors, such as the MUSEUMS-TERRAZZO or MASTERTERRAZZO® floor, are suitable as design floors. The MUSEUMS-TERRAZZO has a modern monochrome look, while the MASTERTERRAZZO® features a noble look through matching natural aggregates in all imaginable variations: round, pointed, fine, coarse, glossy, light, dark, colored or simply natural. Our terrazzo cast floors are tailor-made for each object. The result is an impressive look, whether monochrome pure, reduced or intense.
Floor Design for public real state in demanding locations
Real estate object floors are exposed to high loads. BARiT® design floors therefore feature high chemical and mechanical resistance as a unique strength. Of course, safety is a particularly important factor - every BARiT® design floor comes with a high slip resistance.
We install our floors jointless. Their great mechanical and chemical resistance is the hallmark of our floors. The uncomplicated cleaning is also a decisive factor, especially in public buildings with a lot of traffic.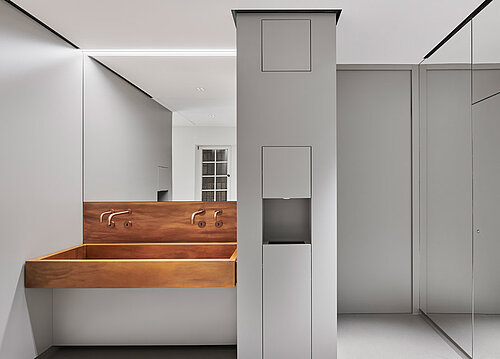 Not only as flooring, but also for the wall
BARiT design floors are not only suitable as a floor covering, but also function excellently as a decorative wall coating. Especially for locker rooms or showers in wellness and swimming pools, our wall coating is used due to hygienic requirements. Unlike tiles, our floors are jointless. This prevents the formation of mold and at the same time reduces cleaning efforts. Our projects, where wall, floor and ceiling are made of one material and one color, are some of the most visually stunning projects we worked on.
For an individual design, the floor can be customized to all RAL colors; concrete or terrazzo looks are also possible. We can also sprinkle different colored chips or colored quartz into the surface to create unusual visual effects.
You would like to decorate your exhibition area with your own company logo? We can do it! The many properties of design floors speak for themselves, and there are virtually no limits to the scope of the design possibilities. The noble appearance harmonizes perfectly with your premises and withstands even maximum stress.
The installation is carried out by our trained personnel - we support you from the consultation to the planning to the execution. Our trained planners will support you in the realization of your design floor; no matter if it is a new building or a renovation. We will be happy to present you with an individual concept upon request. Do you still have questions? Then feel free to contact us - and benefit from floors with precision.