UPPER COMPOSITE SEAL
USE AND APPLICATION
Top composite waterproofing and structural waterproofing that meets the high requirements against the chemical effects in areas exposed to wetness, such as commercial large-scale kitchens, are an essential component of a watertight, jointless floor system. Waterproofing systems that offer proof with a general building authority test certificate (abP), which comply with Building Regulation List A, Part II, No. 2.50, offer building owners and architects watertight system solutions that regulate waterproofing in floor and wall areas. BARiT offers system waterproofing, BARiT® top composite waterproofing and BARiT® structural waterproofing.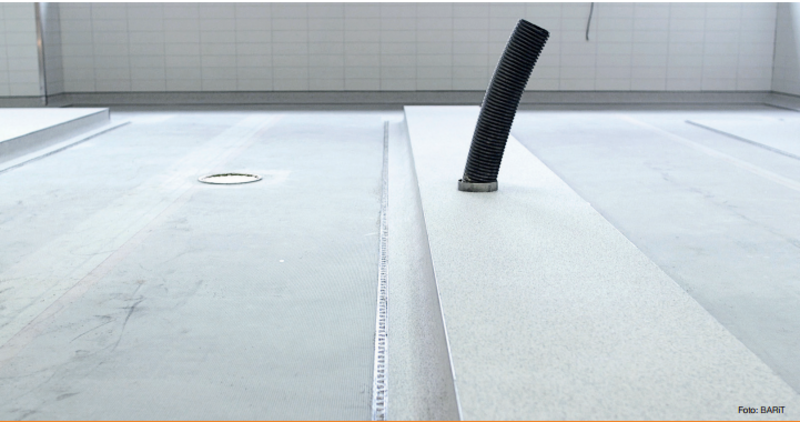 Quick Info
Application area A for wet areas, e.g. shower facilities
areas e.g. shower facilities
Area of use C for areas exposed to wetness
areas exposed to chemicals
Resistant to potash lye
Temperature and ageing resistant
Flame retardant Bfl - s1
Crack-bridging up to 0.2 mm
Waterproof
The BARiT® top composite waterproofing is a waterproofing based on epoxy resin with a fabric insert. The upper composite waterproofing serves as a waterproofing layer and is always installed in connection with a wear layer, such as a jointless BARiT® kitchen floor in the various slip resistance classes. The waterproofing may be used in accordance with PG-AIVF for area A.: wall and floor surfaces subject to direct loads. These are rooms such as swimming pool surroundings and shower facilities. Alternativily it can be used for area C.: directly exposed walls and floor surfaces that are frequently exposed to long periods of wetness and have a limited chemical load.
BARiT® bonded waterproofing with tiles is a jointless, chemically resistant waterproofing that is installed under all tile and slab coverings in combination with BARiT tile adhesive BARi-Flex. As with the upper composite waterproofing, this waterproofing applies to both application areas A and C. Both waterproofing systems can be used to seal the transitions from the floor to the wall area.
The watertight installation and sealing of media feed-throughs, pipe feed-throughs and the entire BARiT® drainage system such as box gutters, slot gutters and floor drains is tested and regulated.
Datasheet
| | |
| --- | --- |
| Bindemittel | EP-Harz mit Einlage |
| Flammpunkt | > 100 °C |
| Verbrauch/m2 | 1,4 kg/mm |
| Brandverhalten DIN EN 13501-1 | Bfl-s1, schwer entflammbar |
| Biegezugfestigkeit DIN 1164** | > 10 N/mm2 |
| Haftzugfestigkeit DIN EN 24624 | > 2 N/mm2 |
| VOC-Emission | erfüllt die Anforderungen des AgBB-Schemas |
| Temperaturbeständigkeit | 100 °C kurzzeitig -30 °C bis +70 °C konstant |
| Chemische Beständigkeit | gemäß Beständigkeitsliste und Eigenprüfung |
| Verarbeitungsbedingungen: relative Luftfeuchtigkeit Restfeuchte des Untergrundes Untergrundtemperatur minimal Untergrundtemperatur maximal | 40 - 85% < 3 % 18 °C 22 °C |
| Aushärtungszeit bei 20°C: Klebefreiheit Begehbarkeit Endfestigkeit Mechanische Belastbarkeit | nach 12 Stunden nach 16 Stunden nach 7 Tagen nach 7 Tagen voll belastbar |
| Aushärtungszeit bei 20°C: Klebefreiheit Begehbarkeit Endfestigkeit Mechanische Belastbarkeit | nach 12 Stunden nach 16 Stunden nach 7 Tagen nach 7 Tagen voll belastbar |
| Verarbeitungsbedingungen: relative Luftfeuchtigkeit Restfeuchte des Untergrundes Untergrundtemperatur minimal Untergrundtemperatur maximal | 40 - 85% < 3 % 18 °C 22 °C |