Services around synthetic resin floors
BARiT supplies and installs the complete floor structure
Plan your new building or renovation with BARiT. Our specialist planners, architects and engineers support you with the floor construction and ensure a turnkey handover. If you need a sample, inspiration from our references or a detailed offer, please contact us. We will be happy to support you with your project.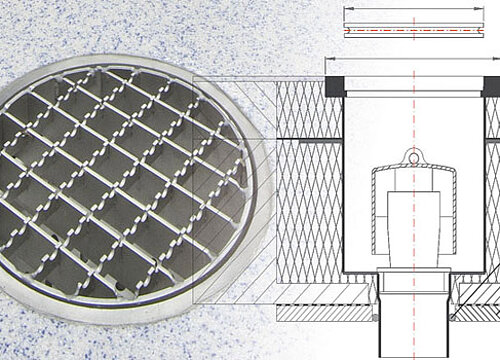 Consultation, planning and tenders
In the 2nd BARiT generation, advice is provided on a project-by-project basis. This guarantees competence, planning reliability and implementation quality. From consulting to planning to installation of the entire floor construction, everything is carried out by our qualified employees. BARiT also offers project-related tenders. BARiT tenders are complex. They are not available for download. After a telephone consultation or a personal appointment, we will be happy to provide them for your projects.
For very comprehensive plans and drafts with project-related sketches, our planning team is at your disposal: Architects, TGA planners, engineers, BIM specialists, sustainability experts and commercial kitchen planners. Our specialists are happy to offer you their know-how in return for a fee for their services on an hourly or daily rate basis.
When it comes to a commercial kitchen, the question arises as to whether our specialists, with their many years of experience, should not plan, tender, document and supervise everything for your customers from a single source.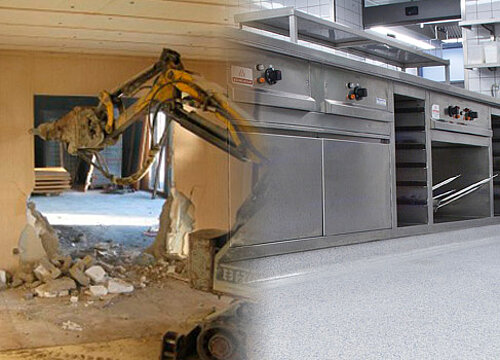 From gutting to turnkey handover
If others can't or won't, BARiT will. We offer complete flooring construction from gutting to the turnkey handover of the project. Whether demolition of an out-dated commercial kitchen, installation of rapid screeds or cavity floors, wall coatings or gutter installations. Full service packages with minimal interfaces. Ask about our complete solutions!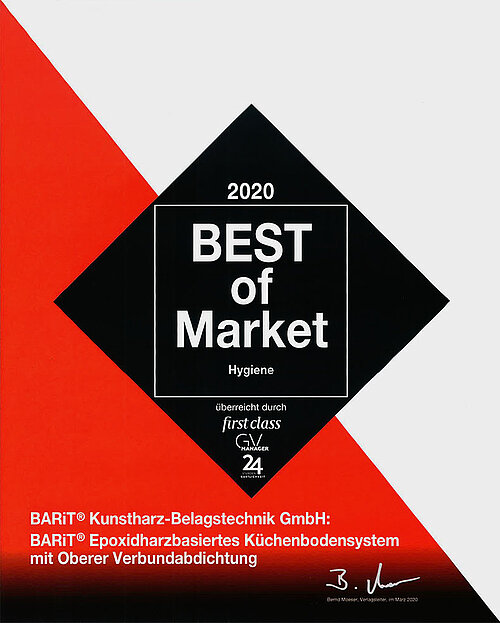 Test Reports, Approvals, Awards and Certificates
In 2020, BARiT was awarded BEST of Market in the hygiene sector by the renowned trade magazine GVmanager for its epoxy resin-based kitchen floor system with top composite seal.
This award stands for our performance and innovative strength. All BARiT floors are thoroughly tested and approved. Our audit partner, the TÜV Hessen Süd, monitors us annually with regard to emissions, pollutants and tests our floorings for this purpose. With the environmental label TÜV Profi Cert Premium and TÜV Profi Cert Standard, we don't just talk about reducing emissions, we do it.
All tests are carried out at approved test centres. Whether fire protection, waterproofing for structural waterproofing and upper composite waterproofing, microbiological certificates for cleaning and disinfection, or slip resistance or CE mark. We offer security for building owners and planners.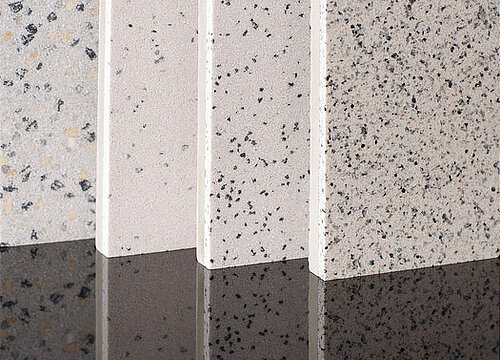 The timeless aesthetic, the diversity in the design and in the colour scheme, durability and high quality workmanship speak for our seamless BARiT Coatings based on synthetic resin. Since our synthetic resin coatings are often unique, creative questions can be solved more easily by requesting patterns, as well as specific samplings. What are your colour and grain size requirements? A special RAL colour or NCS colour?
In our BARiT references you will find numerous BARiT floors for all areas. Whether purist museums, restaurants, large kitchens, pharmaceutical companies, operating theatres and sterile areas or industrial applications. Find inspiration in our projects.