SLOT CHANNEL
BARiT slot channels are for the drainage of those rooms where only small quantities of water must be removed. Gradients being integrated assure a high flow rate and the very best self-purification. BARiT slotted channels made of stainless steel with proper edges, welded distance plates and reinforcing angles with oblong holes allow heavy mechanical loads.
The BARiT slot channel can be designed with or without a slope. Crossbars and 2 mm thick stainless steel ensure robustness, durability and thus sustainability. All variants are visible and therefore easy to clean and disinfect for the implementation of hygiene guidelines and HACCP.
The slot channels complement BARiT's range of design floors and drainage systems with box channels, round solid hygiene drains and pipe penetrations. BARiT supplies the drainage system and expertly installs it in the synthetic resin industrial floor or other floors.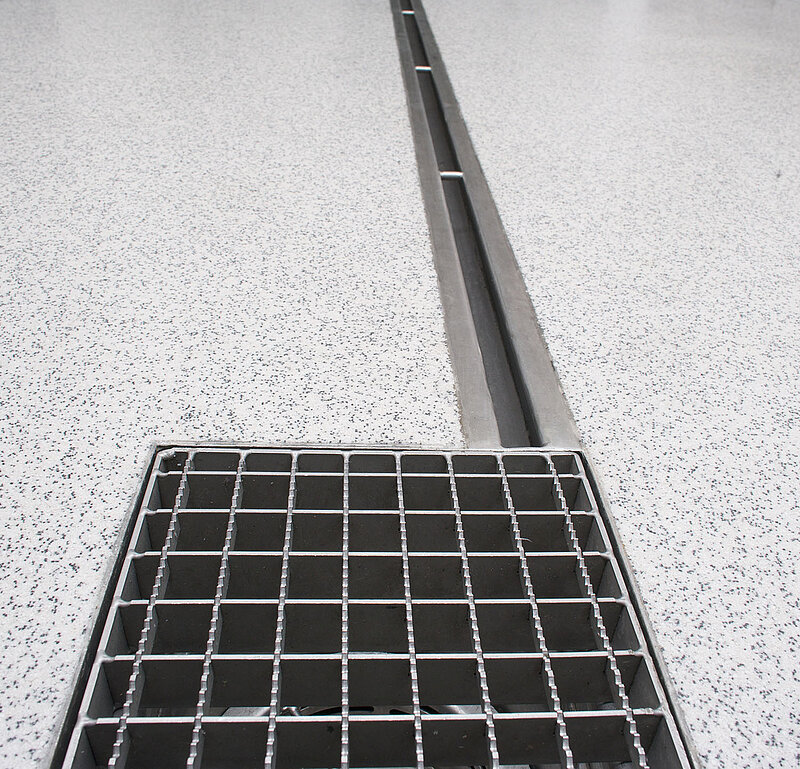 Quick Info
custom tailored
gradients integrated
stainless of steel
solid covers
easy cleaning
mechanical stability
resisting to thermal loads
The slotted channel for your synthetic resin floor or terrazzo floor.
Our slot channels shine with their high-quality metal look.
We will advise you on the slip-resistant channels and other variants - contact us!
Die BARiT slot channel is made of stainless steel. Additional stability for high loads is provided for with professional bends, welded spacer ribbing and lengthwise reinforcement brackets. As part of BARiT's services, professional installation can also be included along with supplying the slot channels.
For a stable connection and seamless integration, these are incorporated into epoxy cement concrete. Extensive standard versions offer a wide range of solutions. Additional sloped channels with different sizes can be made bespoke upon request.
Stainless steel floor drains can be easily cleaned with our BARiT CLEANER.
Datasheet
| | |
| --- | --- |
| Material thickness | 2/3 mm |
| Surface | chemically pickled |
| Execution | ca. 0,5 m |
| Slot Width | 20 mm |
| Slot Width (barefoot area) | 8 mm (min. height 78 mm) |
| Built-in-Fall | 0,6 % |
| Cleaning | BARiT Cleaner* |
| Firesafety | on demand |
| Material | Stainless steel AISI 304 1.4301 |
| TYPE | Standard SRC 50/2 | Special Slot Channel SRC 75/2 | Special Slot Channel SRC 75/3 |
| --- | --- | --- | --- |
| Overall Width | 136 | 151 | 153 |
| Channel Width | 50 | 75 | 75 |
| Max. Height | 296 | 292 | 204 |
| Min. Height | 60 | 78 | 78 |
| Max. Lenght | 39 | 36 | 21 |