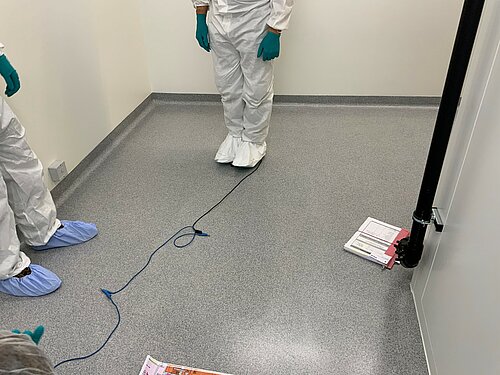 For long-lasting BARiT coverings, we offer maintenance work and servicing. Intensive and special cleaning, assessing maintenance joints or refreshing an older BARiT floor are all part of this.
In order to ensure the functional safety of the floor, this also includes measurement in accordance with the DIN EN 1081:2018+A1:2020 as well as the new DIN for the determination of electrical resistance. We would be happy to measure your electrically conductive floors or refresh them for you.
Our BARiT floors do not normally require any recurring maintenance or extra protective layers. Our floors do not require maintenance of floor-level joints, as we work seamlessly with the drainage system. We also have construction and movement joints, which we are happy to inspect and maintain for you. For maintenance and servicing, we have various impregnations and sealants in our range, whether transparent, pigmented or slip-resistant.