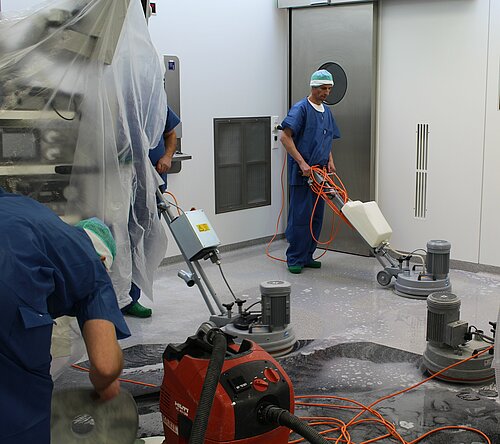 The pharmaceutical, chemical and food industries as well as canteen kitchens and hospitals place the highest demands on hygiene. We meet these requirements at all times with our synthetic resin floor coverings. They are crack-free, seamless, very easy to clean and disinfect. They thus comply with the guidelines of GMP (good manufacturing practice) and the FDA (Food and Drug Agency) of the USA and support HACCP.
In order for BARiT coverings to maintain their longevity, cleaning, care and proper disinfection are a must! For this purpose, we provide comprehensive cleaning instructions, come to the building owner and customer and carry out cleaning instructions and training.
We also offer our builders and customers basic and intensive cleaning as well as special cleaning, or resealing or potting if the floor is subject to heavy use. We offer special cleaning when the floor is subject to heavy use, e.g. in operating theatres or canteen kitchens. With our trained team, we go on site to clean, measure and maintain.
Coverings are groomed to protect the wear layer and make it last longer or to improve the appearance and make maintenance cleaning easier and faster. Different products are used depending on the type of floor covering and the stress on the floor.